I am planning to look for sustainability in every corner and during each encounter I have during London Fashion Week – my green lens is officially on. I'll be looking at the fashion, the designers, the organisation of London Fashion Week as a whole, and the important topic of waste, currently a focus on this site as part of the Reclaim project. It started for me at check-in; as I write this, I am based in St Martins Lane Hotel, and whilst the hotel is design-led and clearly comfortable in the modern luxury stakes, the tipping point for me choosing this as my base were the hotel's green credentials.
The Morgans Hotel Group recently coined the term 'Glamorously Green' with its daring and innovative approach to embracing a greener lifestyle – including its recycling initiatives. From donating unused soap and toiletries to Clean The World's soap recycling program to giving mattresses to charity organizations for both local and overseas needs, I was excited to hear how the boutique hotel was working to tackle the issue of waste and educate guests during their stay.
I have also challenged myself to dress as sustainably as I can from head to toe for the five days of shows, including a recycled element where possible in the spirit of the fashion and waste theme currently live (my contribution to the theme will go live shortly). I am going to try to be at least '80%' sustainable on each day! Can I make an impact without an impact? Let's see….day one.
Today I am excited to wear Tata Naka – a brand designed by identical twins, Tamara and Natasha Surguladze, born in Tbilisi, Georgia. I love their designs (as do many influencers on the fashion scene – the brand has been worn by the likes of Cameron Diaz, Mina Suvari and Sarah Jessica Parker). You might even recognise some of their pieces from regular appearances on the legendary series ''Sex in the City'', and from the Carrie Bradshaw cover of the official SATC book however not many people know about the brands zero-waste policy. 'As a brand we aim to keep waste to a minimum, thus reusing and recycling leftover fabrics and prints for toiling. We also recycle old patterns and all sorts of trims, nothing is thrown away!' Typically, when we talk about waste in the fashion industry, we focus on how consumers can stop being wasteful – we talk about the 1.2 million tons of clothing going to landfill in 2005 in the UK alone (DEFRA 2007) and how an estimated 1 million tonnes of textiles thrown away every year – but just as pertinent is the conversation around how designers (the makers of this fashion) tackle efficiency, and this should be part of that wider conversation too. Tata Naka do this is a stylish, non-braggy way – they are what I like to call 'Eco Ghosting' – operating sustainably without singing about it from the rooftops.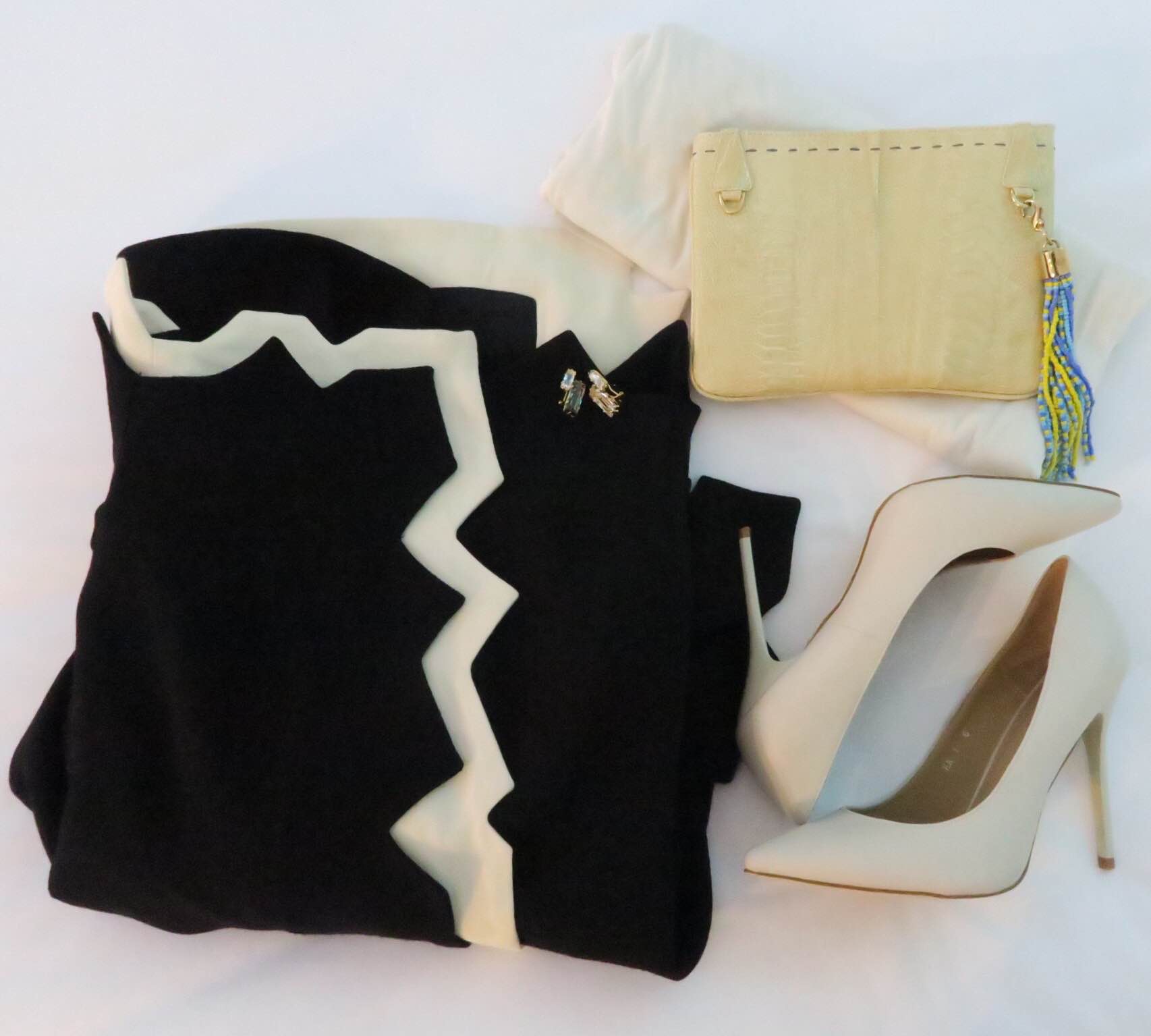 Today my bag is by a brand named Okapi – named after the African antelope – Okapi is proud of its South African roots and by working directly with indigenous farmers and tanneries, and using locally sourced materials stays 100% traceable and ethical. In addition, Okapi works closely with the farming communities of the Karoo and sources its leather as a by-product of existing farming practices. Using by-product instead of new product for inputs, or simply seeing waste differently is one major way in which we can address the issue of waste in the fashion industry.
My shoes are by Public Desire (I am not buying any new leather this year, and hoping to pledge the same next year too) and my jewels from Atelier Swarvoski's Core 'Nile' Collection. Swarovski has always championed innovation and hand craftsmanship through The Swarovski Collective; founded in 1999 by Nadja Swarovski following collaboration with Alexander McQueen, it is a space for emerging design talent to be supported, showcasing innovative use of crystal. Through the collective designers are encouraged to experiment with different techniques and hand embroidery – slow, time-consuming, delicate and precise. This is just one of the ways in which the company encourages a slow fashion approach to design.
Still, sustainability for the brand goes beyond supporting the use of traditional crafts with a modern, personal interpretation. With the proliferation of the company's products throughout the Collective's work, Swarovski works to constantly re-evaluate material health – particularly with substances such as nickel and lead heavily regulated. In 2012 Swarvoski's patented an 'Advanced Crystal' virtually lead-free formula which became known in the fashion industry as the 'cleaner, greener stone'.
I hope I have hit at least 80%? Day 1 over, click here Day 2!